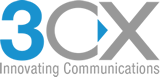 3CX Phone System is a software based private branch exchange (PBX) based on the SIP (Session Initiation Protocol) standard. It enables extensions to make calls via the public switched telephone network (PSTN) or via Voice over Internet Protocol (VoIP) services.
3CX Phone System for Windows was developed by 3CX and first published as a free IP PBX product in 2006. The product was intended to provide a VoIP solution for use in a Microsoft Windows environment.
The first commercial edition of the product was launched in 2007. Reviews of the product have noted its easy configuration, management, and hardware compatibility.It was awarded an Editors Best Award in 2008 by Windows IT Pro Magazine, a gold award by WindowsNetworking[and a 'Best Buy' award by Computer Shopper.